So while im waitng for my trainer to arrive i decided to pass a bit of time and try to set up some board making gear. I have access to fiber glass and some carbon but thats a bit further down the track. It's funny sometimes, i was searching around the net, asking as work for anyone with on old fridge that i could make a vacuum pump from with it's compressor. Only thing anyone had was an old air con pump, (2 stage) to hard. Then it dawned on me, I've been using an old fridge as a storage cabinet without the door on.
I came home tipped it on it's face and TADA!!!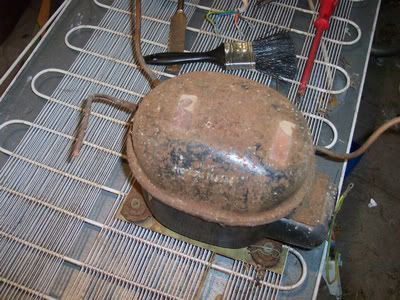 It looks a bit old and is i guess . it was the fridge we bought 21 years ago when we first got married. I wired up the compressor and again TADA!!!!!
It works.
Ive found a heap of carbon , well not a heap but some suppliers i can get most gear from including glass. Right now i get my glass from Martini glass in Geelong.
For anyone interested here are a couple of carbon suppliers.
Play With Carbon
and
Carbon Fiber Australia
.
Play With Carbon has gear for vacuum bagging as well, including pumps if you want to spend $400 on one. and carbon is $60 per mtr.
Vacuum bagging really did confuse me a bit until i watched this video. it doesnt show a board being made but is very clear on how they are doing this. Also the rest of videos they have are good too.
( i thought everybody loved ray was finished)
The kids are excited as they are helping me clean out the garage so we can set things up. If nothing else come of this at least they are having fun getting involved in what im doing.
That's it for now